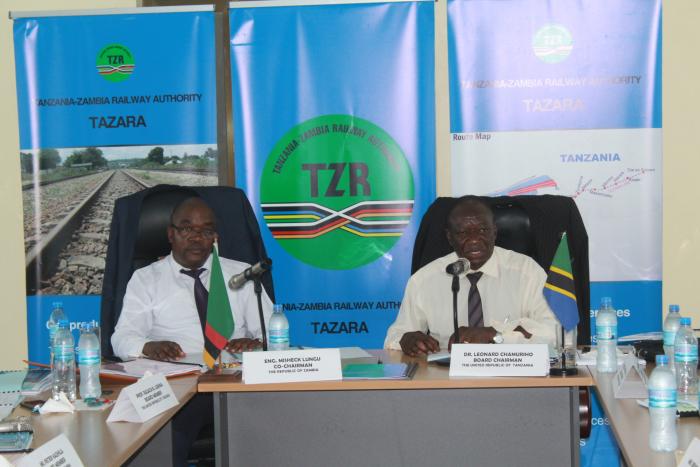 DAR ES SALAAM
We, the Tanzania-Zambia Railway Authority (TAZARA) Board of Directors, comprising the Permanent Secretaries responsible for Transport in the United Republic of Tanzania and the Republic of Zambia, as Chairperson and Co-Chairperson, respectively, together with four other Board members from both countries, meeting in Dar es Salaam, Tanzania, this 13th Day of January 2020, do hereby declare as follows.
PERFORMANCE OF THE AUTHORITY FOR THE FIRST HALF OF THE FINANCIAL YEAR 2019/20, ENDING 31ST DECEMBER 2019
We took note of the negative trend in some of the Key Performance Indicators recorded by the Authority in the first half of the Financial Year 2019/2020 ending 31 December 2019 but urged the Management to ensure that actions were taken to reverse the trend and put the performance back on track, taking into account the optimistic business prospects highlighted for the second half of the Financial Year. 
In view of the foregoing, we directed the Management to aggressively seek additional freight traffic in order to capture more business, take steps to improve safety of operations, increase the line capacity so as to accommodate more private operators, strive to lower operating costs further and engage the Tanzania Port Authority for joint total route costing so that rates offered to customers can be reduced.
EXTERNAL AUDIT REPORT
We received the report of the External Auditors, Demus Associates of Tanzania, and noted their findings for the Financial Year 2018/2019 ended 30 June 2019, where it was observed that progressive improvements had been recorded by the Authority in the last 5 years leading up to the Financial Year 2018/2019, particularly in terms of income generated, annual traffic volumes as well as the reduction of expenditure due to effective cost controls and the overall decrease in losses. 
We commended the Management for the noteworthy improvements in the Financial Report and urged that more efforts be made to turn around the performance of the Authority in order to permanently eliminate the loss-making and start declaring dividends to the two shareholding Governments. We also expressed gratitude for the unqualified Audit opinion, which has now been recorded for the fourth consecutive year.
ENGAGEMENT OF PRIVATE OPERATORS
We noted the positive performance recorded so far by the private operator admitted to run on TAZARA through Open Acess and urged Management to speed up the process of engaging additional private operators under the Open Access model so that the utilisation of the TAZARA infrastructure is optimised.
BANKABLE BUSINESS PLAN
We noted the progress made by Management towards preparing a Bankable Business Plan as directed by the TAZARA Council of Ministers at the last meeting in October 2019 for purposes of funding by the shareholders as well as possible investor financing and urged the Management to conclude the exercise expeditiously. 
Issued by:
THE TAZARA BOARD OF DIRECTORS
Dr Leornard Chamuriho, Board Chairperson and Permanent Secretary, Ministry of Works, Transport and Communications - Tanzania
Eng. Misheck Lungu, Board Co-Chairperson and Permanent Secretary, Ministry of Transport and Communications - Zambia