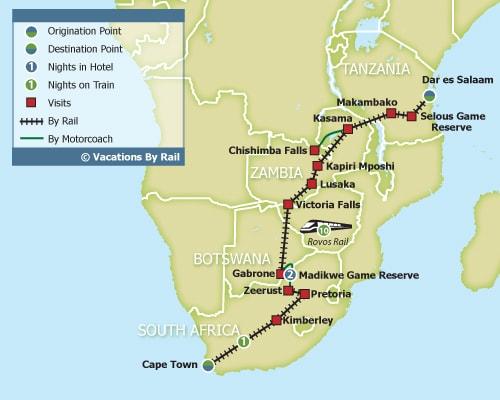 The Tanzania Tourist Board (TTB) is keen to use TAZARA to promote domestic tourism, TTB Managing Director has said.
Speaking at a reception for tourists who arrived with the Rovos Rail from South Africa through TAZRA, on Saturday 15 July, Ms Devotha Mdachi said TTB wants to use TAZARA as a means to promote domestic tourism.
"The railway line is one of the best and it cuts through a number of tourist attractions, we want to see how best we can involve TAZARA to start promoting domestic tourism," she said.
Ms Mdachi said worldwide, railway tourism has been gaining momentum, thus TTB wants to use it for domestic tourism promotion.
Earlier on Friday, the TAZARA Managing Director, Eng Bruno Ching'andu and Ms Mdachi addressed the media on the impending arrival of the Rovos Train and agreed that they would be working on modalities for promoting local tourism to encourage people to visit the Selous game Reserve.
Mr Ching'andu said that over 200km of TAZARA's track passed through the game reserve and it was just appropriate that TAZARA used its competitive advantage to transport local tourists to the game reserve.
And speaking at the reception for Rovos, TTB Chairman, Judge Thomas Mihayo called upon the public to exercise the highest hospitality especially now when the country was experiencing an increasing number of tourists.
"We have to show them the Tanzanian hospitality as they enjoy their visit in a number of tourist attractions countrywide," said retired Judge Mihayo He added: "We are now enjoying an increasing number of tourists; the public should show them Tanzanian hospitality so that when they go back to their home, they will be our good ambassadors and in so doing, many more will keep coming."
TAZARA Head of Commercial for Tanzania Region, Mr Hemed Msangi, said TAZARA usually hosted the tourist train 5 times in a year and that the journey from South Africa normally takes 15 days, stopping at various tourist destinations along the way in Botswana, Zimbabwe, Zambia and in the Selous Game Reserve of Tanzania.
"The train had 60 tourists on board, who headed to various destinations in the country for attractions of their choice. But they will fly back to their respective areas, and on Tuesday, those who flew in, will be leaving by train on a reverse journey to South Africa" said Mr Msangi.
The train's doctor in charge, Ms Hester Wannenburg, said it was one of the best trips. She said the passengers had a good time and everything was well arranged as they passed through Botswana, Zimbabwe, Zambia and finally Tanzania.