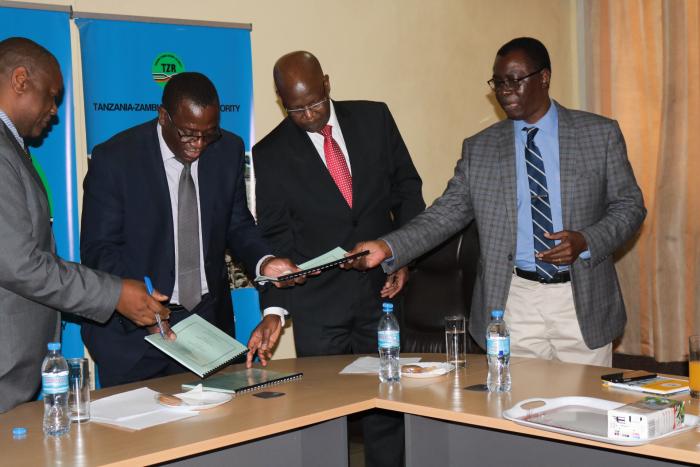 The Tanzania-Zambia Railway Authority (TAZARA), Zambia Railways Limited (ZRL) and the National Railways of Zimbabwe (NRZ) have todaycollectively signed a contract with the Grain Marketing Board (GMB) of Zimbabwe to transport 17,000 Metric Tons of maize from Makambako and Vwawa in Tanzania to Bulawayo in Zimbabwe.
Under the agreed terms, TAZARA would load the commodity from Makambako and Vwawa and relay it to ZRL at New Kapiri Mposhi who would in turn pass it to NRZ at Livingstone, for final delivery to various destinations in Zimbabwe.
The entire tonnage is expected to be transported within three months, starting from 9thSeptember 2019.  
Speaking at the Signing Ceremony,Eng. BrunoChing'andu, the Managing Director and Chief Executive Officer said the railways were delighted to be given the opportunity to transport the maize on behalf of GMB.
"As TAZARA and speaking for the other two sister railways, we are very delighted to be given this opportunity and are up to the challenge to move the Maize."
He said that to move the traffic timely, TAZARA had allocated  100 wagons for the exercise while the other two railways had also allocated a total of 100 wagons and that they were confident to move the maize in the given time frame.
Henotedthat the cargo was sensitive as it involved the staple food of Zimbabwe and, therefore, failure was not an option.
"We will move the cargo in the required time frame," assured Eng. Ching'andu, who also thanked the Governments of Tanzania and Zimbabwe for supporting TAZARA by showing confidence in its ability to handle the sensitive consignment. 
And the delegation Leader for the high powered Zimbabwean delegation that included senior Government Officials from Zimbabwe, Major General William Dube, who is the Vice Board Chairman of NRZ, said that the people of Zimbabwe were highly expectant of the maize delivery project and nothing short of success would be accepted.
The 17,000 MT contract could be extended to 83,000 MT, if successfully executed, according to TAZARA CEO.
About TAZARA
TAZARA is bi-national railway jointly owned by the Governments of the United Republic of Tanzania and the Republic of Zambia on a 50-50 shareholding basis. The 1,860km-railway connects landlocked Zambia to the seaport of Dar es Salaam in Tanzania and further provides road and railway inter-connectivity to other parts of Southern Africa. In essence, TAZARA provides a communication backbone for the three regional groupings of SADC, COMESA and the East African Community. For Central and Southern African hinterland importers and exporters with business ties to the Middle-East and Asian countries, including China, TAZARA provides the shortest route to the sea, through the Port of Dar es Salaam and is therefore a vital rail link in the logistical chain. Ends
TANZANIA-ZAMBIA RAILWAY AUTHORITY
Issued by:
Conrad K Simuchile 
Head Public Relations
Email:hpr@tazarasite.com
WhatsApp: +255767803074