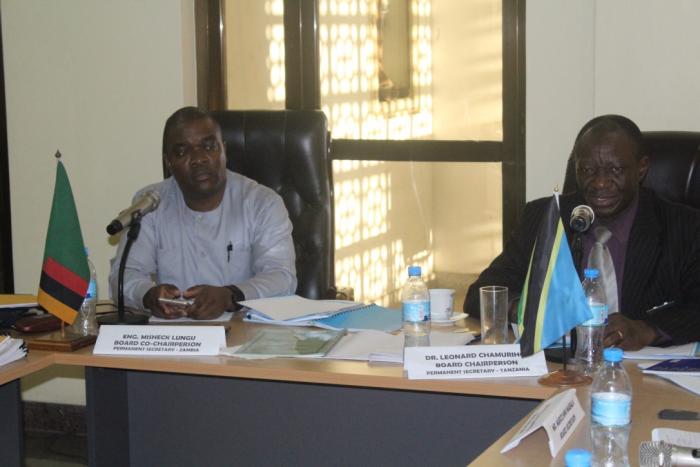 Press Statement, 26 March 2018
Prof. Razack Bakari Lokina, Mrs Rukia Diwani Shamte and Mr Stanslous John Sichalwe have been appointed as new members of the Tanzania-Zambia Railway Authority (TAZARA) Board of Directors, replacing three other Directors whose terms of office expired.
The Ministers responsible for Transport in Tanzania and Zambia, Hon. Prof. Makame Mbarawa and Hon. Brian Mushimba made the respective appointments in accordance with the TAZARA Act, following the expiry of tenures for three former Directors.
Hon. Mushimba also renewed the membership for Mr Peter Kazhila, whose first term as a Director expired in December 2017.
Prof. Lokina is a professor of Environmental and Resource Economics in the Department of Economics at the University of Dar es Salaam, where he is also the Deputy Director of Planning. Apart from lecturing, Prof. Lokina has been a Team Leader of various studies and projects and has been a member of several institutes during the period spanning over 20 years of professional experience in Tanzania.
Mrs Shamte, on the other hand, has over 30 years of experience in a multidisciplinary approach to the development of logistics and corridors, with a deep understanding of infrastructure and logistics projects in the region. She has served in various capacities in the Government of Tanzania, particularly in the areas of Transport and logistics. Mrs Shamte is a Master of Transport Studies and a Fellow of the Chartered Institute of Logistics.
From Zambia, the newly appointed Mr Sichalwe has over 30 years of professional experience in Logistics and Project management. He is a holder of a Bachelor's Degree in Development Studies and comes to TAZARA with a wealth of experience gained from working in the private sector as well as from Non-Governmental Organisations and public institutions, including the United Nations High Commission for Refugees, World Vision International and Zambia Railways Limited.
The term of office for Zambia's other member of the Board from the private sector, Mr Kazhila, has been extended for another three years.
The TAZARA Act, 1995, provides for the establishment and composition of the Board of Directors and stipulates that it shall consist of six members, including the Permanent Secretaries in the Ministries responsible for transport in Tanzania and Zambia, and four other members with experience in either transport, commerce, industry or finance appointed by the Ministers responsible for transport in Tanzania and Zambia, respectively.
About TAZARA
TAZARA is bi-national railway jointly owned by the Governments of the United Republic of Tanzania and the Republic of Zambia on a 50-50 shareholding basis. The 1,860km-railway was built as a turn-key project, with financial support from the People's Republic of China between 1970 and 1975. It connects landlocked Zambia to the seaport of Dar es Salaam in Tanzania and further provides road and railway inter-connectivity to other parts of Southern Africa. In essence, TAZARA provides a communication backbone for the three regional groupings of SADC, COMESA and the East African Community. For Central and Southern African hinterland importers and exporters with business ties to the Middle-East and Asian countries, including China, TAZARA provides the shortest route to the sea, through the Port of Dar es Salaam and is therefore a vital rail link in the logistical chain. Ends
TANZANIA-ZAMBIA RAILWAY AUTHORITY
Issued by:
Conrad K Simuchile
Head Public Relations
Email: hpr@tazarasite.com
Mobile: +255783803074; WhatsApp: +255767803074