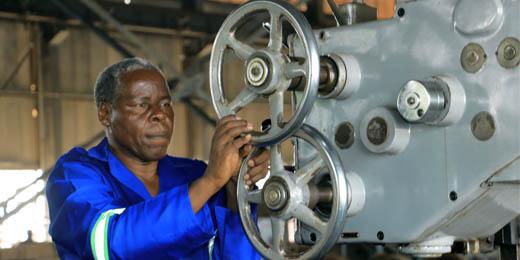 We have three engineering workshops, located in Dar es Salaam, Mbeya, in Tanzania, and Mpika in Zambia.
The Mbeya workshop was specifically set up to undertake the maintenance of General Electric/Krupp (Diesel Electric) Locomotives and all scopes of repair, including the rehabilitation of locomotives from serious train accidents. DE locomotives are TAZARA's mainstay, employed mostly in mainline operations.
The Dar es Salaam and Mpika workshops, on the other hand, are exact replicas and were particularly established to conduct wagon and coach maintenance and repairs and to offer general engineering services and works that the railway may require including:
Steel casting
General purpose and light metal casting
Forging services
Coiling of springs
Crankshaft grinding (up to 3m length and 600mm diameter)
All basic machining processes, including planing, grinding, turning, shaping and more
Gear manufacture
Heat treatment and electroplating
Laboratory services
Equipment maintenance, repair and overhaul
Manufacture of component parts for factories
In addition, TAZARA has six locomotive depots and four rolling stock repair sheds for day-to-day maintenance, fueling and light repairs.