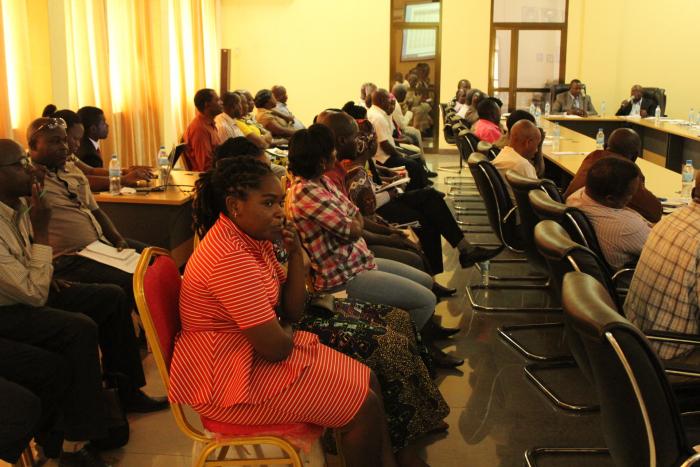 The Managing Director of the Tanzania-Zambia Railway Authority (TAZARA) has challenged the workers of TAZARA to rise to the occasion and take advantage of the abundant cargo that is now being presented to the Authority for transportation after a successful marketing campaign in the last year.
Eng. Bruno Ching'andu revealed to the TAZARA Master Workers Council that following a successful marketing campaign and a demonstration of TAZARA's ability to deliver on time, with maximum safety and security, many customers had now offered confirmed freight traffic orders in excess of 600,000 tons for transportation on both ends of the TAZARA railway line.
Speaking on Monday 24 July 2017, when he officially opened the second meeting of the Master Workers' Council, Eng. Ching'andu commended the workers for working hard to win back the confidence of the customers and challenged them to now focus on delivering and proving to the public that the Authority was capable of meeting the huge market demand.
"We have to prove our relevance to our shareholders as well as to the public by moving all the freight that has been availed to us," the Managing Director said.
Eng. Ching'andu observed that although TAZARA was facing capacity constraints, the huge demand for the railway transportation services, coupled with the positive and encouraging goodwill from the two Governments of Tanzania and Zambia, was sufficient to spur every worker to think of creative ways for overcoming the challenges.
"We need to be innovative and to think outside the box in order to overcome these capacity constraints," he said.
The Managing Director informed the workers that in order to enhance the haulage capacity in the short term, and considering that funds for re-capitalization would take long to materialize, the Management was actively seeking to increase the fleet of locomotives and wagons through short-term measures such as leasing of the required equipment and allowing other external operators to ply the railway within the few weeks.
BACKGROUND INFORMATION
About TAZARA's Master Workers Council
The TAZARA Master Workers' Council was formed pursuant to the Employment and Labour Relations Act of Tanzania in July 2013, although it was only officially inaugurated in July 2016. The Workers' Council provides for employee participation in matters affecting the Authority, with wide representation from both countries and consisting of Management, Trade Union leaders and elected employees.
About TAZARA
TAZARA is bi-national railway jointly owned by the Governments of the United Republic of Tanzania and the Republic of Zambia on a 50-50 shareholding basis. The 1,860km-railway connects landlocked Zambia to the seaport of Dar es Salaam in Tanzania and further provides road and railway inter-connectivity to other parts of Southern Africa. In essence, TAZARA provides a communication backbone for the three regional groupings of SADC, COMESA and the East African Community. For Central and Southern African hinterland importers and exporters with business ties to the Middle-East and Asian countries, including China, TAZARA provides the shortest route to the sea, through the Port of Dar es Salaam and is therefore a vital rail link in the logistical chain. Ends
TANZANIA-ZAMBIA RAILWAY AUTHORITY
Issued by:
Conrad K Simuchile
Head Public Relations