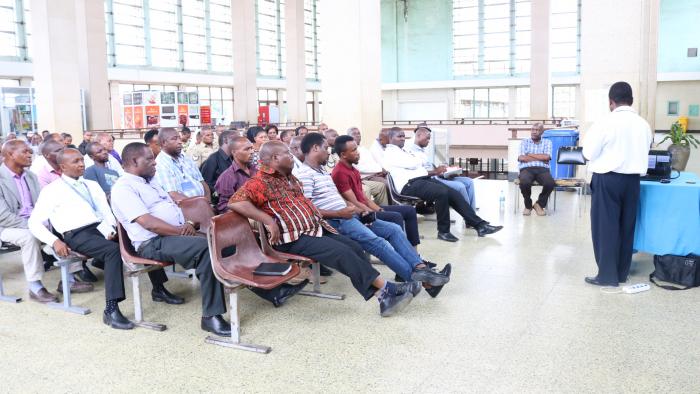 Public health experts of the Tanzanian Government have conducted a seminar in Dar es Salaam imparting knowledge on the Coronavirus (COVID-19) disease to all Frontline Staff  of the Tanzania-Zambia Railway Authority (TAZARA), in an effort to sensitise workers on how to guard against possible infection from the pandemic virus. 
The seminar, held on Thursday 12 March 2020, targeted all security, operations and marketing personnel that deal with passengers and other customers in one way or another.
Tanzania's and Zambia's Health Ministries  have also put up surveillance measures on the 1,860km TAZARA infrastructure at three points, screening all passengers and crew members for any symptoms at Dar es Salaam and Tunduma in Tanzania as well as at New Kapiri Mposhi in Zambia.
Although neither Tanzania nor Zambia has registered any infections from COVID-19 so far, TAZARA is a global focal point and, therefore, at risk of exposure, because it handles several types of passenger trains between and within Tanzania and Zambia, including the globally renowned luxurious Rovos Train, a private tourist train that originates from Cape Town, South Africa, running through several countries in Southern Africa up to Dar es Salaam. 
The Rovos makes at least five trips to and from Dar es Salaam every year and the train is currently enroute to Dar es Salaam, where it is expected to arrive on Saturday 14th March.
The other famous interstate passenger trains (the Mukuba Express and the Kilimanjaro Ordinary), which ply between New Kapiri Mposhi, in Zambia, and Dar es Salaam, in Tanzania, also carry over 5,000 passengers every week, including international travellers from various parts of the world. 
TANZANIA-ZAMBIA RAILWAY AUTHORITY
Issued by:
Conrad K Simuchile 
Head Public Relations
Email: hpr@tazarasite.com
WhatsApp: +255-783-803-074