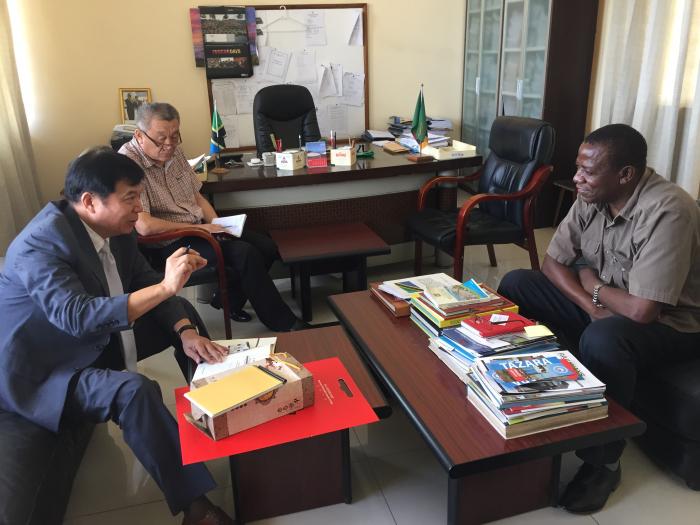 PRESS RELEASE
Political will is all it requires to completely revamp the Tanzania-Zambia Railway Authority (TAZARA) today, the Chinese Deputy Ambassador to Tanzania, Mr. Guo Haodong has said.
Speaking in Dar es Salaam when he paid a courtesy call on the Managing Director of TAZARA on Friday 15th December 2017, Mr. Guo said China, Tanzania and Zambia could easily resolve the challenges of TAZARA.
"At the time of constructing TAZARA between 1970 and 1975, the three countries had more daunting problems then.
Today, all the three countries are far more advanced than they were in the 1970s. Therefore, it is a matter of political will that is required to revamp this company and take it to another level," said Mr Guo.
Mr Guo lamented about the irony of the railway's poor performance in Tanzania and Zambia, citing an example that when he travelled to Mbeya by road, the highway was heavily congested with trucks carrying heavy loads and yet just a few metres parallel to the road, the railway track was lying idle.
Eng. Ching'andu welcomed the Deputy Ambassador and thanked the people of China for their unwavering support throughout the life of TAZARA.
He maintained that the Authority was doing its best to uplift the performance of the railway under very limiting circumstances, due to low equipment capacity.
"We are grateful for the support we have received in the past. We are also thankful that some initiatives are being considered by the governments to reinvigorate this railway.
"With the limited capacity that we have, we have managed to reverse the sliding trend in the performance of this company in the last two years, having come from a low of 88,000mt of freight per annum to an annual haulage of close to 200,000mt currently, which is a turn-around of more than 90%," said the Managing Director.
Eng. Ching'andu said more needed to be done to realise the full potential of TAZARA, which was very huge, but needed commitment and concerted efforts from all stakeholders to get the railway back on track.
About TAZARA
TAZARA is bi-national railway jointly owned by the Governments of the United Republic of Tanzania and the Republic of Zambia on a 50-50 shareholding basis. The 1,860km-railway was built as a turn-key project, with financial support from the People's Republic of China between 1970 and 1975. It connects landlocked Zambia to the seaport of Dar es Salaam in Tanzania and further provides road and railway inter-connectivity to other parts of Southern Africa. In essence, TAZARA provides a communication backbone for the three regional groupings of SADC, COMESA and the East African Community. For Central and Southern African hinterland importers and exporters with business ties to the Middle-East and Asian countries, including China, TAZARA provides the shortest route to the sea, through the Port of Dar es Salaam and is therefore a vital rail link in the logistical chain. Ends
TANZANIA-ZAMBIA RAILWAY AUTHORITY
Issued by:
Conrad K Simuchile
Head Public Relations
Email: hpr@tazarasite.com
Mobile: +255783803074
WhatsApp: +255767803074