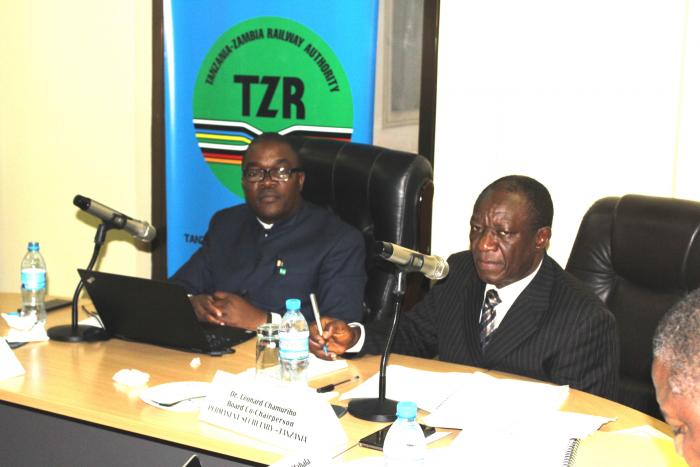 We, the Tanzania-Zambia Railway Authority (TAZARA) Board of Directors, comprising the Permanent Secretaries responsible for Transport in the Republic of Zambia and the United Republic of Tanzania, as Chairperson and Co-Chairperson, respectively, together with four other Board members from both countries, meeting in Dar es Salaam, Tanzania, this 1st Day of June 2019, do hereby declare as follows.
Approval of the budget for the Financial Year 2019/2020
We considered and approved the proposal by Management to transport 300,000 metric tons of freight and 800,000 passengers for the budget of the Financial Year 2019/2020.
Engagement of the private sector in TAZARA operations
Noting that TAZARA owns a lot of valuable assets that are either lying idle or are underutilised in most cases, we directed Management to:
a)   Engage more private operators under the Open Access model so that the volume of traffic on TAZARA is increased further, in view of the good performance by the private operator so far. The Management was also directed to appoint a Contracts Manager to specifically manage contracts for the Open Access and the hire of locomotives from other railway operators; 
b)   Proceed with the proposal to enter into a Joint Venture with a private investor for the operation and management of TAZARA's Mununga Quarry in Muchinga Province; and
c)    Evaluate the possibility of embracing workable Public-Private-Partnership models through which to finance the re-manufacture of idle locomotives and the development of iddle land assets.
Procurement of induction furnace for Mpika Workshops
We considered and authorized Management to proceed with the procurement of an induction furnace with all its accessories for production of spares, mill balls and other foundry related products in the Mpika Workshops.
TANZANIA-ZAMBIA RAILWAY AUTHORITY 
BOARD OF DIRECTORS