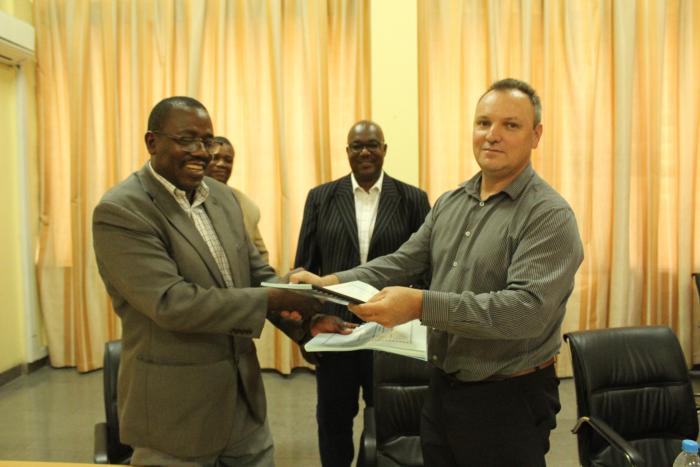 In order to boost the haulage capacity to meet the huge demand expected to be created by the Railway (Transportation of Heavy Goods) Regulation that was recently passed in Zambia by the Minister of Transport, the Tanzania-Zambia Railway Authority (TAZARA) has dispatched an engineer to South Africa to conduct a due diligence on five U30 mainline locomotives that are to be hired within the next few weeks.
The Authority is further awaiting shareholders' approval for an Open Access Agreement with a private railway operator that has already started conducting trial runs between Ndola and Dar es Salaam.
Eng. Bruno Ching'andu, TAZARA Managing Director, says the decision to hire extra locomotives and engage private operators in Open Access is meant to increase capacity to adequately handle the positive response from the market, especially in view of the passing of the Statutory Instrument that compels manufacturers in Zambia to channel 30% of bulky traffic to the railways.
"We are elated by the measures taken by the Zambian Government through the Minister of Transport and Communications and, in this regard, these immediate steps we are taking are meant to assure the public and the business community of our readiness to meet the anticipated demand on our services.
"In August 2017, we signed an Open Access Agreement with Zambia Railways Limited and signed an MoU with another private railway operator, Calabash freight Limited, following the go-ahead granted by our shareholders in 2015 allowing us to engage private operators in order to maximize usage of our line.
"Everything has fallen into place and we are glad to be at the edge of some very positive developments in railway haulage," said Eng. Chingandu.
About TAZARA
TAZARA is bi-national railway jointly owned by the Governments of the United Republic of Tanzania and the Republic of Zambia on a 50-50 shareholding basis. The 1,860km-railway was built as a turn-key project, with financial support from the People's Republic of China between 1970 and 1975. It connects landlocked Zambia to the seaport of Dar es Salaam in Tanzania and further provides road and railway inter-connectivity to other parts of Southern Africa. In essence, TAZARA provides a communication backbone for the three regional groupings of SADC, COMESA and the East African Community. For Central and Southern African hinterland importers and exporters with business ties to the Middle-East and Asian countries, including China, TAZARA provides the shortest route to the sea, through the Port of Dar es Salaam and is therefore a vital rail link in the logistical chain. Ends
TANZANIA-ZAMBIA RAILWAY AUTHORITY
News Release
Tuesday, 6 February 2018