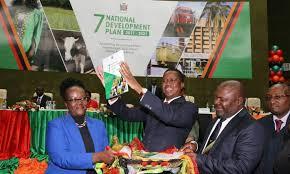 The ZAMBIAN GOVERNMENT will in the next four years undertake a comprehensive rehabilitation of the Zambia Railways mainline at a cost of US$1.3 billion and pursue the revitalisation of the Tanzania-Zambia Railway Authority (TAZARA) at an estimated cost of US$1.2 billion, to enhance operational efficiency.
The Minister of National Development and Planning, Hon. Lucky Mulusa announced these developments in Lusaka, saying that the construction of new rail lines and rehabilitation of existing ones will reduce the cost of freight, and increase the tonnage being carried.
Hon. Mulusa said during the Seventh National Development Plan (SNDP) period, Government will also begin construction of the Chipata-Petauke-Serenje railway line at a cost of US$2.2 billion to complete the link from the port of Nacala to the existing railway line in the country.
This is contained in the 2017-2021 SNDP, which President Lungu launched recently.
"Further, focus will be on the development of attendant infrastructure, acquisition of rolling stocks and other equipment, as well as improving the management of the railway system," he said.
SOURCE: LUSAKA TIMES https://www.lusakatimes.com/2017/06/28/government-mobilise-billions-doll...