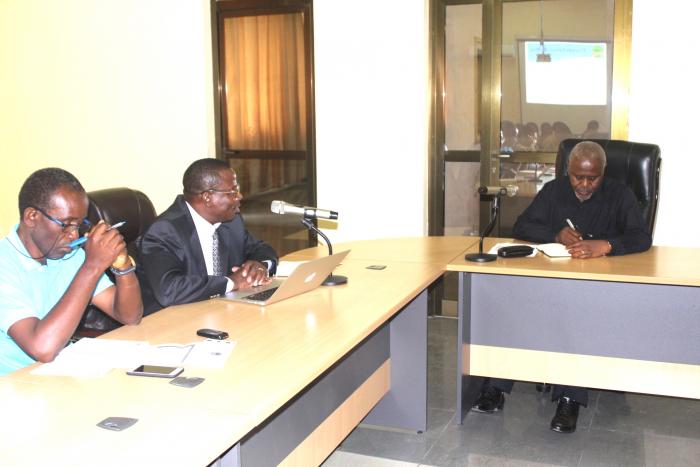 On Friday 2 March 2018, Hon Atashasta Nditiye, Deputy Minister of Works, Transport and Communications for the United Republic of Tanzania visited TAZARA for a familiarisation tour.
He was taken on a conducted tour of the facilities in Dar es Salaam, including the station, one stock of the express Train and the Dar es Salaam Workshops. He also addressed about 140 workers at the Dar es Salaam Workshops.
The Managing Director, Eng. Bruno Chingandu informed the Deputy Minister that despite the challenges that the Authority was currently facing, overall performance had improved in the last three years, from the worst output of 88,000mt of freight conveyed in 2014/2015 financial year to 171,000mt in 2016/2017 financial year, a turnaround of over 94%.
Other notable achievements in the last three years include reduction of Transit Time from 20 – 30 days to 5 – 7 days (transit time is the time it takes for a freight train to move between Dar and New Kapiri Mposhi).
Speed-restricted spots had reduced from 50 to 23 which has contributed to faster movement of trains & shorter transit times.
Eng Ching'andu said the Authority had enhanced security, almost reducing security incidences to zero. In addition, he said,  marketing efforts had been intensified, which had restored customer confidence
Eng Ching'andu observed, however that there were increased opportunities due to the following:
Increased Mineral products e.g Copper & Manganese due to favorable economic growth rates and high world market price
Streamlined Port operations that include working 24hours attracting ships to Dar port and  Corridor
Passing of Statutory Instrument  No.7 to move 30% of Heavy and  Bulky cargo from Road to Rail in Zambia on 26th February 2018.
The Authority was banking on exploiting these opportunities. 
The CEO pointed out the following as some of the challenges faced:
Insufficient working capital and investment funds leading to deferred maintenance
Poor track condition
Huge legacy debts, including statutory debts
Low rolling-stock availability (12 locomotives against the required 36, 900 wagons against the required 1,800)
Inadequate skilled manpower
Eng Ching'andu spelt out the following as key amongst the elements of Authority's vision:
To make TAZARA the most preferred transporter in the region
To have a work force that is competitively compensated
To make TAZARA able to pay its own salaries
To have a responsible TAZARA that is able to contribute to the economies of Tanzania and Zambia by paying its taxes and pension contributions
To have a TAZARA that is able to give back to the communities in which it operates
After listening to a brief from the Managing Director of TAZARA, Hon Nditiye said he was happy with the vision of the management and the efforts being made to transform the institution.
He said, "I can see you have a good vision and you are doing a commendable job. The Government is 100% aware of your efforts and is fully behind you. That is why we are doing our best to look for money to finance some of your requirements."
He said that it was in the interests of both Governments as shareholders to support TAZARA and enable it to be productive enough to start paying back taxes and dividends.
The Deputy Minister called on the management to enhance its marketing efforts and introduce new products to woo customers, stressing that the situation was no longer monopolistic.
He also tasked management to find ways and means for ensuring that workers in the workshops were properly dressed with safety attire.