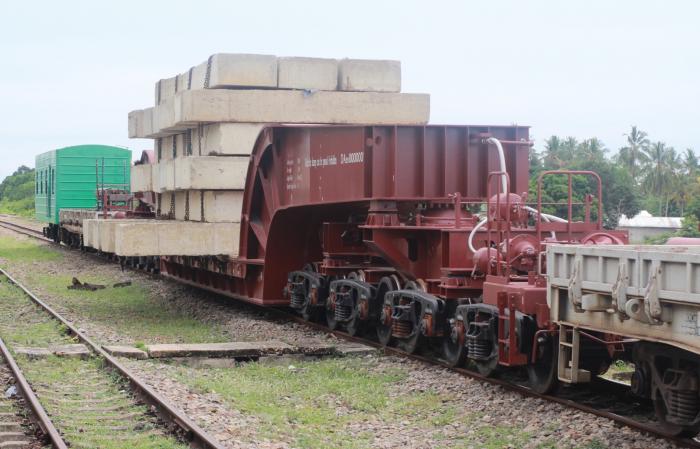 Dar es Salaam, 18 January 2023 - A 200-ton Well-Wagon,  which will be used for transporting Out of Gauge or abnormal loads such as turbines and other components for the Julius Nyerere Hydro Power Plant from Dar es Salaam to Fuga Station, has been purchased by TAZARA at a cost of US$ 1 million.
Since the project commenced in 2018, TAZARA has moved over 700,000 tons of cargo from the Port and other sources to Fuga, including machinery, equipment, fuels, cement, and various other materials being utilized at the project site. 
Speaking after a successful test run of the Well-Wagon, TAZARA's Acting Chief Mechanical Engineer, Greyson Moilo, said the wagon had performed according to expectations and was confident that now TAZARA was able to deliver all the equipment required at the hydro-power project in Rufiji.
"We were compelled to buy this 200-ton Well-Wagon after realizing that our current wagons could not exceed the capacity of 90-tons, but some of the expected components of the power plant being built would weigh up to 200 tons, which meant that moving them to Fuga would be a challenge.
We have since successfully tested the wagon with a load of about 190 tons, in the presence of all the relevant stakeholders, including the equipment supplier from China (CRRC QRRS), the Project Owners (TANESCO) and the Land Transport Regulatory Authority, LATRA," he said.
And TANESCO thanked TAZARA for the effort in acquiring the Well-Wagon.
"As TANESCO, we are now fully assured that all the wide and heavy cargo will reach Fuga for onward delivery to the project site as planned," said Mr Deogratius Hondi, the Procurement Specialist for the Julius Nyerere Hydro Power Project.
A Well-Wagon is a wagon with a depressed load-bed between the axles, also known as Extra Out of Gauge Load (EOGL) Wagon, made specifically for carrying wide ranging heavy types of goods that would not ordinarily be moved on a normal 50 to 60-ton wagon. 
This Well-Wagon which TAZARA has added to its wagon fleet can carry cargo weighing up to 200 tons. Normal wagons may only carry cargo weighing up to 60 tons.
TAZARA has been playing a key role in transporting cargo from the Port of Dar es Salaam and other areas to Fuga Station, which is about 220km from Dar es Salaam, in the outskirts of the Selous Game Reserve, where the Julius Nyerere Hydro Power Project is located. 
There is no paved road connecting Dar es Salaam to the Project Site and the most convenient way to get there is by rail up to TAZARA's Fuga Station, from where there is another 20km of gravel to the site on the Rufiji River where the dam is being built.
Tanzania-Zambia Railway Authority
Conrad K Simuchile, Head Public Relations 
Email: hpr@tazarasite.com, WhatsApp: +255783803074