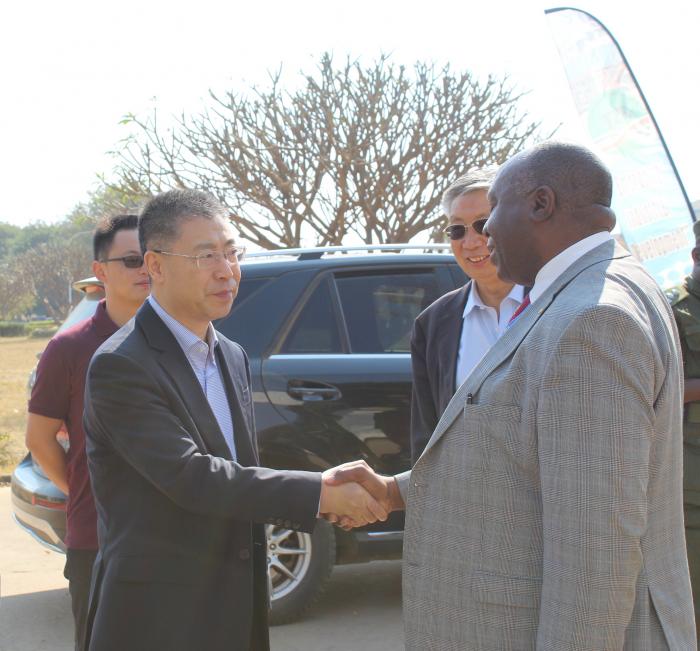 The Chinese Ambassador to Zambia, His Excellency Mr. Li Jie has this morning paid a courtesy visit to the Regional Office of TAZARA in Mpika, where he introduced AVIC international, the contractor engaged to build the TAZARA Memorial Park in Chongwe area near Lusaka, which will house the remains of the Chinese who died during the construction of TAZARA..
He urged TAZARA to co-operate and support AVIC International in the process of building the memorial park in Chongwe, emphasizing that the memorial park would serve as a national monument. 
Ambassador Li said that the TAZARA memorial park would act as a museum for the younger generation to appreciate the friendship that existed among the three countries of China, Tanzania and Zambia. 
"The younger generation need to know that the spirit of hard work, friendship and commitment can achieve great things such as the TAZARA railway line" The ambassador said. 
The Ambassador also took the opportunity to commended the management of TAZARA for improving the performance of the Authority in the last few years, noting that the performance had deteriorated tremendously prior to 2016.
Ambassador Li, who was welcomed by the Regional General Manager, Eng. Kambani Ndhlovu, advised the Authority to focus on improvement of capacity in order to grow revenue and overhaul of the management systems for better decision making.
The Ambassador said there was also the need for both countries to encourage the building of industries along the line so that there were more railway activities to bring in traffic.
Ambassador Li stressed that the Chinese Government always had TAZARA at heart and was always willing to work with the two countries towards improving TAZARA. 
TANZANIA-ZAMBIA RAILWAY AUTHORITY
Issued by:
Conrad K Simuchile
Head Public Relations
Email: hpr@tazarasite.com
WhatsApp: +255767803074