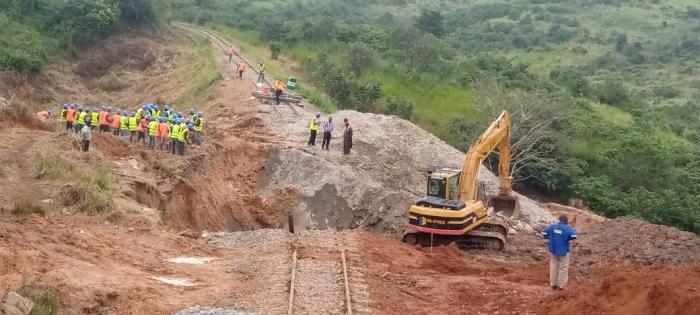 The Tanzania-Zambia Railway Authority (TAZARA) is frantically working on restoring train operations following a disruption occasioned by a landslide that occurred on 30th April 2020 around the Mwakanga area, 32 kilometres South-West of Dar es Salaam.
The landslide was caused by heavy and persistent rainfall in the area, which weakened 35 metres of the track formation, rendering the railroad impassable.
The Authority continues to make round-the-clock efforts to repair the defect and anticipates to restore operations within the next two weeks.  
TANZANIA-ZAMBIA RAILWAY AUTHORITY
Issued by:
Conrad K Simuchile, Head Public Relations
TAZARA, Head Office, Nyerere Road, Dar es Salaam, TANZANIA
Email: hpr@tazarasite.com; WhatsApp: +255-783-803-074
Visit our website: www.tazarasite.com