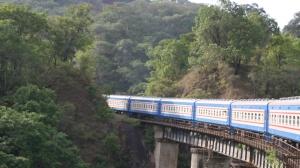 A Zambian tour operator says she is excited to learn that the Tanzania Zambia Railway Authority (TAZARA) has acquired new passenger train coaches.
Claire Powell of Thorn Tree Safaris of Kasama said the tour operators were very excited about the "fantastic development".
"When I saw this very exciting news on the TAZARA website, I decided to share the information on our Facebook page.
This is awesome and we are very excited about this fantastic development," Claire says.
"Plenty of people are asking me for details about this train such as fares for each class, the time schedule for the train journey each way so we know when we can board and disembark," she said.
Claire, who said she would planning a trip to Kapiri to experience the new TAZARA express passenger train coaches, hoped that the development would improve the tourism sector.
New Express Train Departs New Kapiri-Mposhi every Monday at 16:00hrs; and Dar es Salaam every Thursday at 15:50hrs. Ends
Reported by Ernest Mwape
Public Relations Officer, Mpika