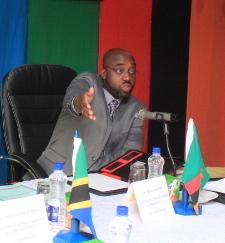 The Zambian Minister of Transport and Communication, Hon Brian Mushimba has disclosed that the government in Zambia is going to create an agency called Railways Development Agency to oversee railway infrastructure development and maintenance.
He said the government will also soon pass a statutory Instrument to limit the movement of cargo on roads and, therefore, allow the shift of bulk cargo from roads to railways.
Mr Mushimba said Government is determined to transform the railway sector into an efficient, safe and viable mode of transport.
Speaking during a SARA meeting held in Lusaka on Wednesday 21 June 2017, when Zambia was elected to chair the Southern Africa Railway Association (SARA) taking over from South Africa, the Minister said the railways should be a key player in the transportation of bulk cargo.
Zambia Railways Chief Executive Officer Christopher Musonda was elected as new SARA president and the vice president is Lewis Mukwada from Zimbabwe.
Mr Mushimba says the development is a demonstration of the confidence member states have in Zambia Railways.
And SARA president Chrisopher Musonda says there is a need to develop adequate capacity to meet the market demand and improve on operational efficiency for regional railways.
Mr Musonda said this will enable the region   to compete favourably on the international market.
Source: ZNBC http://www.znbc.co.zm/?p=56168